Chairman of the Council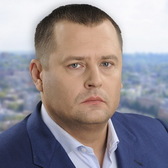 Filatov Borys Albertovych
Public Office
Третій четвер кожного місяця. Обов'язковий попередній запис з 1 по 8 число місяця прийому у каб. 108
Short Biography
Renowned social activist and human rights defender.
Member of Ukrainian Parliament. Successful entrepreneur.
Authoritative journalist. Philanthropist.
Mr. Filatov was born on March 7, 1972 in Dnipropetrovsk (Dnipro) in a family of teachers.
Gratuated from Dnipropetrovsk State University, has degrees in history and law.
In 1997 defended his thesis and became the youngest Candidate of Juridical Sciences in Ukraine.
Since 1996 began to practice law, repeatedly entered the "Top 10 best lawyers of Ukraine", taught at several universities.
In 2005-2014 was engaged in journalistic activity. In 2005-2010 hosted a popular in Dnipro TV show.
On 4 March 2014 was appointed as Deputy Chairman of Dnipropetrovsk Regional State Administration on internal affairs.
On 27 November 2014 became a member of Verkhovna Rada (Ukrainian parliament).
Headed the Special Control Commission of Verkhovna Rada on privatization issues, worked in the Committee on Legal Policy and Justice, was a member of groups of inter-parliamentary relations with the US, China, UK, Japan, etc.
In the 2015 Ukrainian local elections was elected as a Mayor of Dnipropetrovsk (Dnipro).
Participating in plenary sessions
83 %
Voted on resolutions
Pros
Cons
Abstained
Votes not cast
Absent